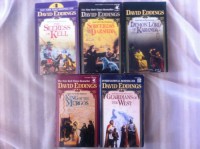 This book is the third of 'The Mallorean' series, a sequel to Eddings' 'Belgariad' series, and as such includes all the major characters of that previous series albeit several years later, plus several new ones.
The plotline is surpringsly similar to the first series: something important has been stolen and Garion and his friends must traverse the world to recover it lest the world be destroyed.
In this case the important thing is Garion's new-born son, who has been abducted by a Grolim preistess (Zandramas) who wishes to make him the new Angarak God. However, as is the case in fantasy adventures, it's never quite that simple.
In the end I gave this book (and it's brothers) 4 stars because as a book (and series) the story is fresh enough to stand on it's own, regardless of any propping up it may be receiving from its 'older brother'.
I decided to go back and re-read (and review) this book (and series) as it was a much read and loved favourite from my teen years. I probably read and re-read this series more than a dozen times between it's release and my 21st birthday, and it is probably one of the primary reasons for my love of the epic/high fantasy genre.
Over 20 years later, and with a much broader experience of various writing styles and genres, I can identify numerous things that differentiate Eddings' style from the more 'Epic' styles of Tolkein or Robert Jordan, or even George R.R. Martin.
One of these faults is that, although set richly detailed world, the characters sometimes seem bland and one-dimensional. Another is what many consider to be the now cliched use of prophecy as a vehicle for the plot.
These 'faults' may prevent others from categorising the story as Epic Fantasy. However, this is a book (and series) which I still truly believe sits square in the 'Epic' or 'High' fantasy genre.