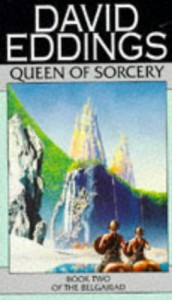 Queen of Sorcery is book two of the 'Belgariad' series, and chronicles the continued adventure of Garion and his companions through the richly detailed world created by David Eddings (with uncredited help from his wife).
Picking up shortly after events in
Pawn of Prophecy
, this book, as the group journeys into the the three southern states of the 'Kingdoms of the West' on their quest to retrieve a stolen magical item that holds the potential to either destroy the world or save it (depending on whether it is wielded by the force of evil or good, respectively).
The cast increases in size as more people are added to the travelling party ('fellowship'?) as 'instructed' by an obscure prophecy that could hold the key to the success, or failure, of the adventure.
The existing characters are developed further, the rich detail of the world becomes more and more apparent as Eddings strives to pull the reader into his vision of 'Epic Fantasy'.
I decided to go back and re-read (and review) this book (and series) as it was a much read and loved favourite from my teen years. I probably read and re-read this series more than a dozen times between it's release and my 21st birthday, and it is probably one of the primary reasons for my love of the epic/high fantasy genre.
Over 20 years later, and with a much broader experience of various writing styles and genres, I can identify numerous things that differentiate Eddings' style from the more 'Epic' styles of Tolkein or Robert Jordan, or even George R.R. Martin.
One of these faults is that, although set richly detailed world, the characters sometimes seem bland and one-dimensional. Another is what many consider to be the now cliched use of prophecy as a vehicle for the plot.
These 'faults' may prevent others from categorising the story as Epic Fantasy. However, this is a book (and series) which I still truly believe sits square in the 'Epic' or 'High' fantasy genre.